Welcome to the home page of
Duchwood Kennels, reg.
MINIATURE SMOOTH DACHSHUNDS
Web site last updated June 16, 2014
Follow links at the bottom of this page to see Sires, Dams, Puppies, Older Dogs.
THERE ARE NOW 63 U.S. CHAMPION PIEBALD DACHSHUNDS and PIEBALDS CONTINUE TO WIN POINTS and CHAMPIONSHIPS in 2014!
DEAR JUDGES: DO NOT BE INTIMIDATED! Apply the standard
For a history of the piebald pattern in Dachshunds and the politics dogging piebald Dachshunds in the show ring, click here .
---
Duchwood Kennels is the home of the World's First Piebald Dachshund Show Champion -
Ch. Duchwood's Cornerstone MS
(died April 2010 at age 16)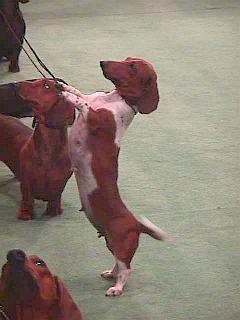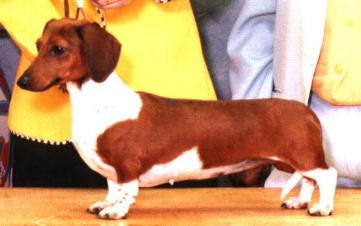 This is Corrie, Dachshund Club of America's 1995 Reserve Winners Bitch and Best of Opposite Sex at the 1999 Westminster Kennel Club Show.
---
Other Piebald Dachshund Milestones:
* We bred and co-own the first piebald dachshund to win Best of Variety at a Dachshund specialty show, Ch. Duchwood's A First For Me MS ! History has been made! Many thanks to breeder judge, Ron Spritzer, for this prestigious win at the Hoosier Dachshund Club show, August 2004.
* We bred and co-own the first piebald ever to win Winners Dog at the National Miniature Dachshund Club's Mini-Expo show, August 2004! Ch. Duchwood's Ynot Another MS.
* We bred and co-owned the world's FIRST PIEBALD DUAL CHAMPION!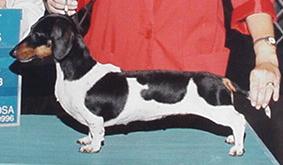 Dual Ch. Duchwood's Page Two MS (died spring 2013 at age 16) finished her field championship on 1/5/03 in Prentiss, MS, by winning first place in the Open All-Age Bitch Stake and then going on to win Best Open and Absolute (the equivalent of Best in Show)!!!!!
* We bred and co-owned with Jan Dubois (Kinder Dachshunds), the World's First Piebald Field Champion Dachshund -- FCh. Duchwood's Starlight MS, CGC (black/tan piebald)
* We bred the World's First Male Piebald Dachshund Show Champion who became the World's First Canadian Piebald Dachshund Show Champion! and the World's First Piebald Versatility Certificate Winner (Owned Kathy Johnson) -
U.S./Can. Ch. Duchwood's Cedarhurst PI MS, U.S./Can. C.D., RAE, JE, NJP, VC, field pts. (black/tan piebald - died at 15 1/2 yrs.)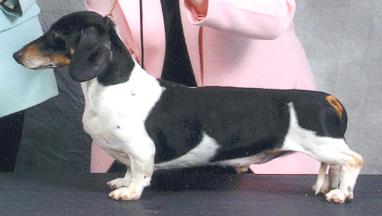 * We bred and co-own the Dachshund Club of America's 2002 Reserve Winners Dog, CH. Duchwood Sounds of Silence MSP, a black/tan piebald.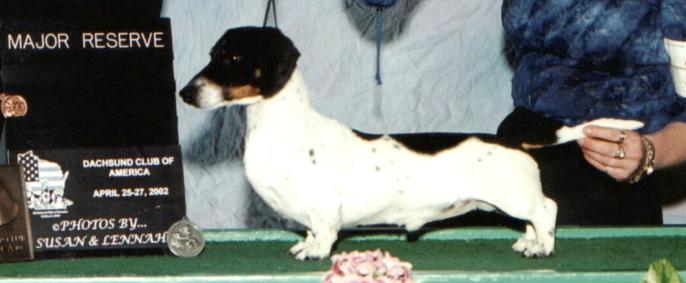 * We bred and own the first piebald DCA Award of Merit winner (2005), Ch. Duchwood's Red Alert MS. Thank you, breeder/judge Carol Spritzer!
* A Breeding "First" for Duchwood Kennels - we are the proud breeders/owners of the World's First Female Piebald Register of Merit Excellent (ROMX) Dachshund, Duchwood's Pebblestone MS!
Pebbles is the dam of Ch. Duchwood's Phoenix MS, Amer./Can. Ch. Duchwood's Cedarhurst Pi MS, Dual Ch. Duchwood's Big Black Wolf MS, Field Ch. Duchwood's Starlight MS, CGC, and Dual Ch. Duchwood's Page Two MS.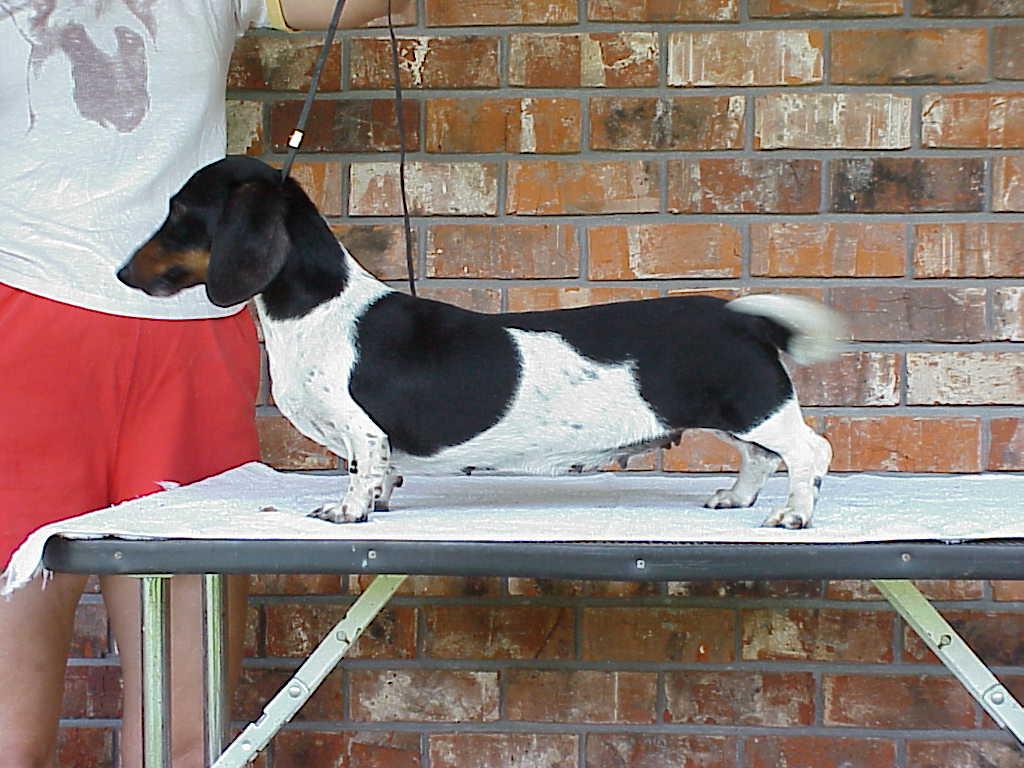 * We are the breeders/owners/handlers of the first CHAMPION MACH Piebald Dachshund:
Ch. MACH Duchwood's Tangled Web MS, MJB, MXJ, CGC (field pts.). "Tango" (red piebald) is a do-it-all guy, too. He is our little "border collie" in agility (working on MACH2) and has just started hunting bunnies. He also produces gorgeous puppies who hunt, too.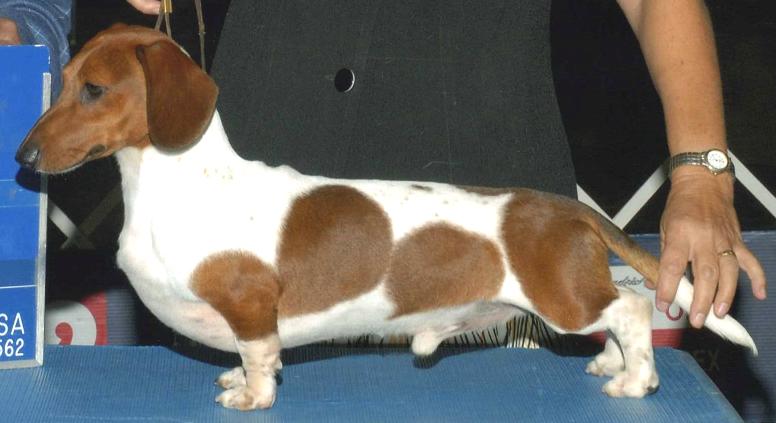 ---
DUCHWOOD'S DO-IT-ALL DOXIES!
Field Ch. Duchwood Great Expectations MS, C.D.X., RA, AX, OAP, AXJ, OJP, also known as "Stella". We congratulate her and owner, Holly Deeds, of Chattanooga, TN, for their continuing hard work!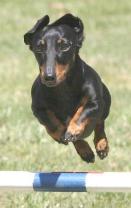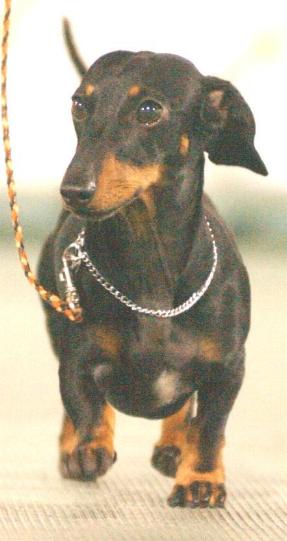 U.S./Can. Ch. Duchwood's Cedarhurst PI MS, U.S./Can. C.D., RAE, JE, NJP, also known as "Pi". We congratulate him and owner, Kathleen Johnson, of Duluth, MN, for their amazing accomplishments (PI sadly passed in 2012 at the age of 15 1/2).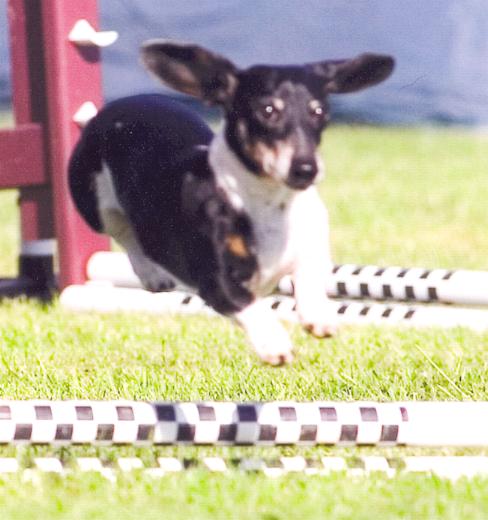 Field Ch. Duchwood's Slow Burn MS, NA, NAP, NJP - "Sloane" (red piebald) - this is my little agility girl who is now retired. She produced kids who hunt.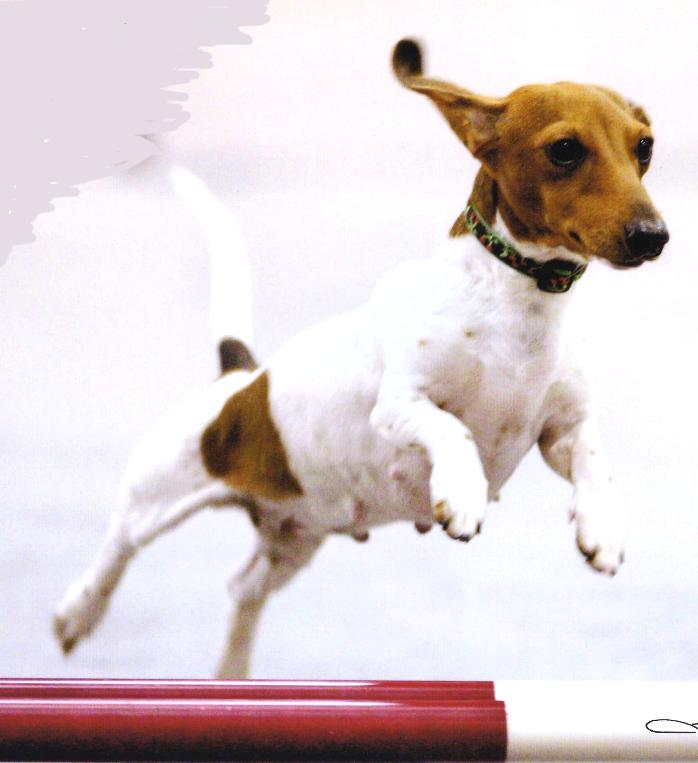 FC Duchwood's Hide N Zeke MS, UDX8 - "Zeke" is an overachiever. He won both his field championship and Utility obedience degree in the space of 3 consecutive weekends! He got a 1st and a 2nd at the field trials, and 3 firsts in the Utility ring. Wow, is all we can say! This is the first Duchwood U.D., and now U.D.X8, Dachshund! We congratulate his owners, Gene and Anne Morris, of Dallas, TX, for winning these titles in incredible style and ease! He is currently the No. 1 Dachshund in competition obedience in 2014 and is working on his UDX9 in 2014!

---
Duchwood Kennels has been in existence for over 30 years breeding healthy, beautiful, AKC-registered, Miniature Smooth Dachshunds for working, performance, and show events. These hounds are bred and raised by an AKC field trial judge to have the best conformation and temperament to allow them to succeed in rabbit field trials, den trials, wounded deer tracking, and the hunting of rabbits, rats, squirrels, ground hogs, etc. Duchwood Dachshunds have excelled in all of the above field sports. All young dogs are evaluated for prey drive and temperament for the field sports and for their potential to produce the next generation of working hounds, as well as for the AKC recognized sports of tracking, agility, obedience, and conformation showing.
Occasionally, we have show and performance/working/pet quality puppies and adults available for sale. Pet puppies are always sold on spay/neuter contracts with limited AKC registration papers and health guarantees. People interested in a puppy should be prepared to provide references. Serious inquiries from established show breeders are invited for show-quality puppies as we do sell our good ones, both solids and piebalds. Show pups will be sold on co-ownerships if we do not know you. Stud service is available to approved, show-quality bitches only.
Duchwood Kennels will always take back any dog or pup we have sold at any time for any reason if the owner is not able to provide it with a loving home. We will find a good home for it or it will stay here permanently.
Note: All titles are AKC (American Kennel Club), the only true, original dog registration and show organization in the U.S. Other so-called " registries" such as the CKC (Continental Kennel Club), SKC (States Kennel Club), and APR (American Puppy Registry) were formed by people kicked out of the AKC for rules violations. They formed these "clubs" so that they could say their puppies were "registered" and the uneducated public would think they were buying a purebred puppy. Never buy a puppy from someone who uses these registries as there is no guarantee that the puppy will be purebred. These organizations will register literally anything without proof of lineage. They even encourage the registration of mixed breeds which they call "designer breeds". These "designer breeds" are nothing more than mutts since they do not breed true, yet people are paying ridiculous prices for them. Don't get sucked in by the hype on these web sites and even on TV. A mutt is a mutt and to think otherwise is to seriously delude yourself.

---
Check out these links to see the Dachshunds of Duchwood Kennels:

PUPPIES

Show/Working/Performance Prospects For Sale

Adult Dogs and Older Pups For Sale

Photos of Our Dogs in Their New Homes

BACK PROBLEMS IN DACHSUNDS - WHAT EVERY OWNER NEEDS TO KNOW

An Explanation of Colors and Patterns in Dachshunds

Care and Feeding/Vaccination Tips for Your New Dachshund

Crate Training Tips For Your New Duchwood Puppy

Dogs Waiting for us at the RAINBOW BRIDGE

Retired Boys

Retired Girls
email us :
MRUSSEL1@ix.netcom.com
For information:
Phone: 225-938-0102 (8 a.m. - 11 p.m. Central Time) We are located just north of Baton Rouge.

All our dogs are registered by The American Kennel Club, Inc.
Member of :
The Dachshund Club of America, Inc.
Mississippi Dachshund Club, Inc.

Louisiana Capitol City Obedience Club

Copyright © 2001 Sandra J. Russell. All rights reserved.
Unless otherwise allowed by law or stated elsewhere, NO part of the normally displayed text or graphics, including
keywords and HTML commands not normally displayed, on this site may be reproduced or transmitted in any form
or by any means, electronic or mechanical, including by photocopying, facsimile transmission, recording, rekeying,
scanning, or yet uninvented means, or by using any information storage and retrieval system, EXCEPT WITH THE
PRIOR WRITTEN PERMISSION OF THE AUTHOR AND APPROPRIATE REFERENCES TO THIS SITE AS
DEFINED BY THE AUTHOR. All text is intellectual property and is copyrighted. Each web page or portion thereof
contained in this site has a retail value of $6,000.00 US and is only available when ordered from the author.