DUCHWOOD DOXIES AT THE RAINBOW BRIDGE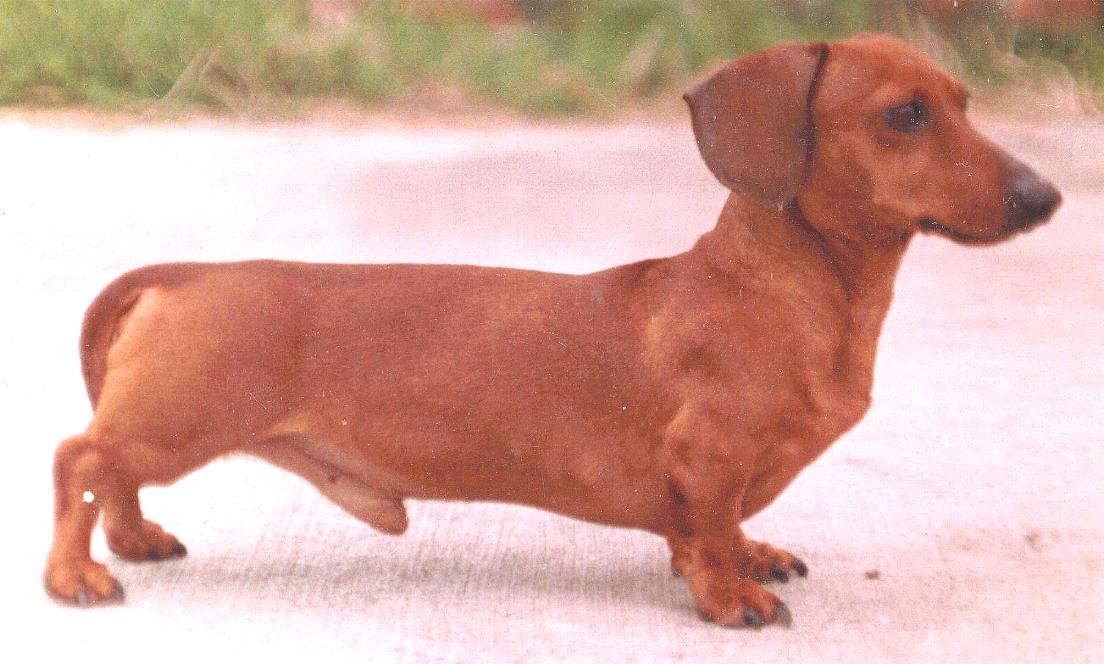 "Tad" ( 7/27/80 - 7/13/97)
Ch. Duchwood's Tad of Doxdane MS, C.D.X., T.D., C.G.
(Wildwood Li'l Buckeroo MS x Doxdane'es Wee Lorelei MS)
"Taddles" - our first dachshund and our foundation sire - euthanized at age 17 (acute kidney failure) - had back surgery at age 10 and made a full recovery
---
"Tess" (10/21/81 - 7/17/96)
Duchwood's Tess of Doxdane MS, C.D.X., J.E. (ch. pts. including 1 major)
(Wildwood Li'l Buckeroo MS x Doxdane'es Wee Lorelei MS)
Our second dachshund and our foundation bitch - full sister to Tad from a later litter - euthanized at age 14 1/2 (acute kidney failure - never sick a day in her life until then)
---
"Flint" (3/23/88 - 11/5/03)
Ch. Duchwood's Flintstone MS, C.D.
(Ch. Duchwood's Tad of Doxdane MS, C.D.X., T.D., C.G. x Duchwood's Garnet Glitter MS)
Our "dinosaur breath" and Tad's son - euthanized at age 15 1/2 (complications from Cushings Disease and colangiohepatitis)
---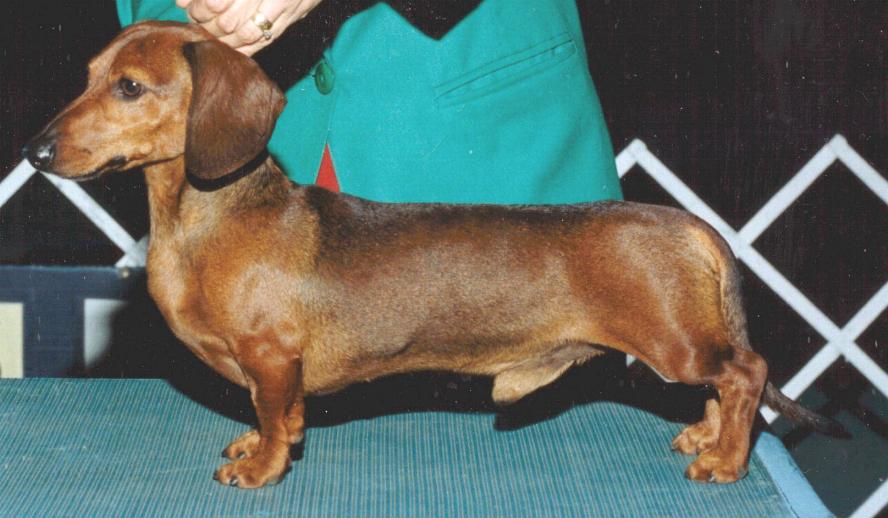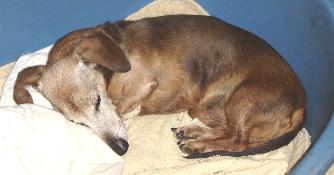 "Chip" (11/28/89 - 7/20/05)
Dual Ch. Duchwood's Microchip MS
(Ch. Poohdach's Own Tristan MS x Duchwood's Garnet Glitter MS)
Chippy was our first dual champion - euthanized at age 15 years, 8 months due to acute kidney failure (never sick a day in his life before then)

---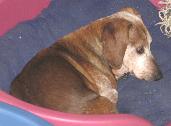 "Webster" ( 02/09/92 - 11/19/07)
Duchwood's Webster MS
(Duchwood's Tornado Patch MS x Duchwood's Hallelujah MS)
"Web-Mans" was euthanized at age 15 years, 9 months due to a probable pancreatic tumor and unrelenting pancreatitis. Webster had developed SARDS at age 9 and went totally blind almost overnight. It never slowed him down.

---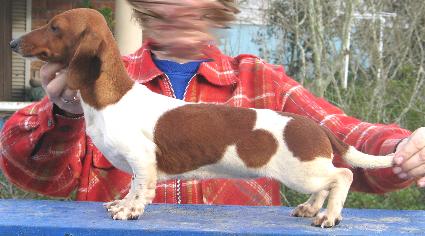 "Zoe" (1/19/06-5/10/07)
Duchwood's In The Zone MS
(Ch. Duchwood's Count Cameron MS x Duchwood's Magic Crystal MS)
My precious, sweet Zoe had to be euthanized 5/10/07 at age 17 months due to complete AV heart block and a bleeding liver. She went from perfectly healthy to deathly ill in less than a week. Nothing could save her. Vets at LSU have never seen anything like it in such a young dog. She had had a strange virus as a 7-week old puppy that nearly killed her, but intensive nursing care pulled her through. Apparently, it also did severe damage to her heart and liver which went undetected until a few days before her death.
---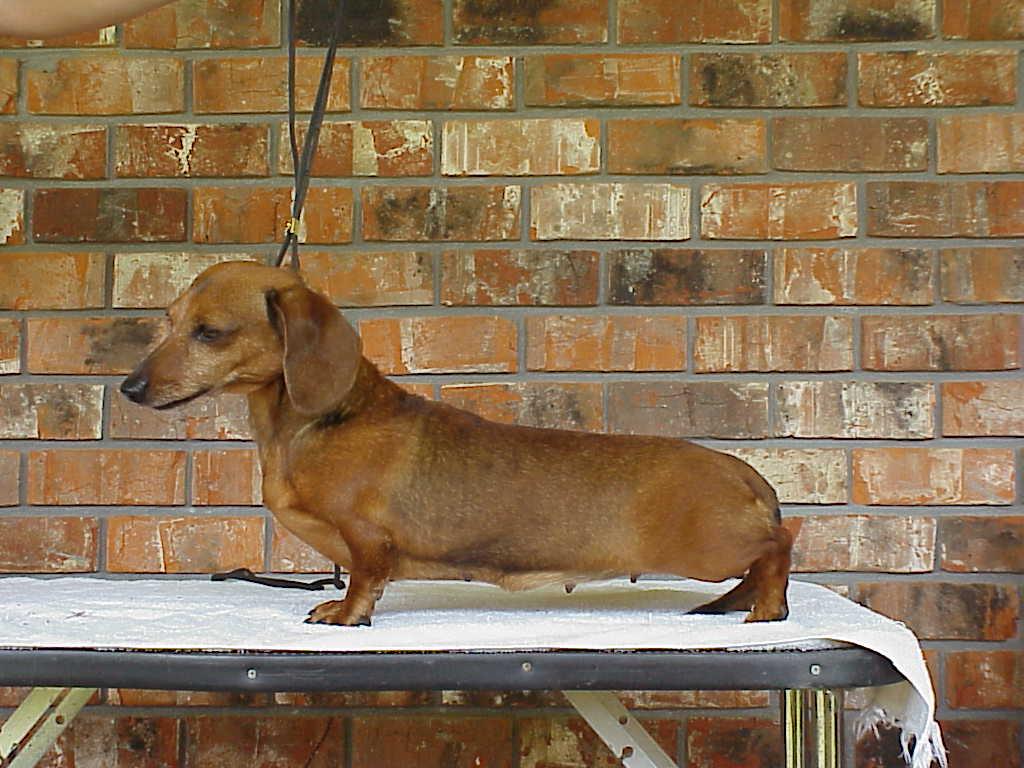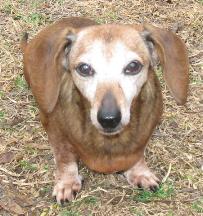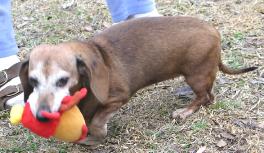 "Willow" (02/09/92 - 12/23/08)
Duchwood's Willow MS (champion points)
(Duchwood's Tornado Patch MS x Duchwood's Hallelujah MS)
"Willow-Pillow", litter sister to Webster, was euthanized at age 16 years, 10 months due to acute kidney failure - never sick a day in her life until then - dam of the first piebald champion, Corrie.

---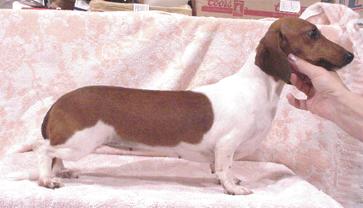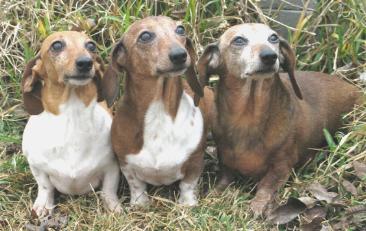 "Ruby, mom Corrie, grandma Willow" (all now deceased)
Duchwood's Rubystone MS
(Ch. Duchwood's Phoenix MS [field pts.] x Ch. Duchwood's Cornerstone MS)
Ruby was a 9.65 lb. red piebald with excellent ribbing and keel, great front and rear angulation, rather light bone, scraggly toes, and a so-so head. She turned out to be quite a producer of show pups and was a size reducer. Her piebald son, Casper, from her first litter is a finished champion, 3 pups from her 2nd litter are show quality, and 2 pups from her 3rd litter are show quality. Ruby was spayed and retired to a loving pet home in Florida. Sadly, Ruby passed away in spring 2009 at the age of 11 from a brain tumor.

---
"Hazel" (1/16/07-6/1/09)
Duchwood's Hazy Recollection MS
(Ch. Lisego Nosa Vitamin Yu x Duchwood's Lady Ellen MS (ch. pts.))
Sadly, Hazel passed away in her sleep at the age of 2 1/2 years. She suffered a massive aneurysm in her chest and died peacefully. She had been perfectly healthy prior to this. It was a great shock.
---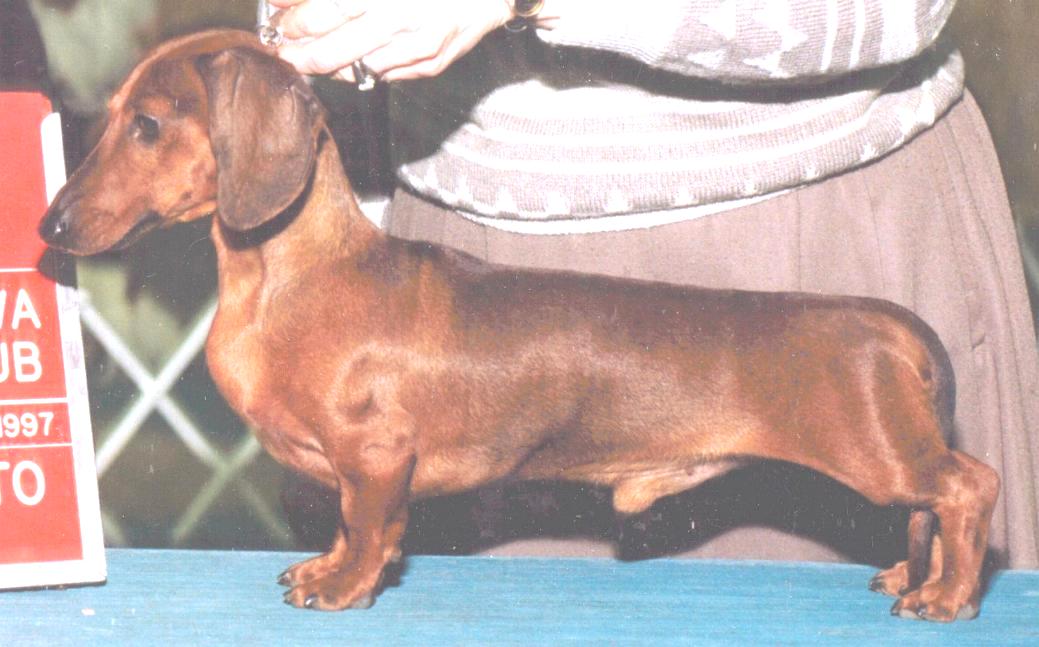 "Noah" (12/2/94 - 6/21/09)
Ch. Duchwood's No Way Noah MS
(Ch. Duchwood's Flintstone MS, C.D. x Duchwood's Willow MS)
Noah "The Boo" was euthanized due to acute kidney failure and congestive heart failure. He was 14 1/2.
---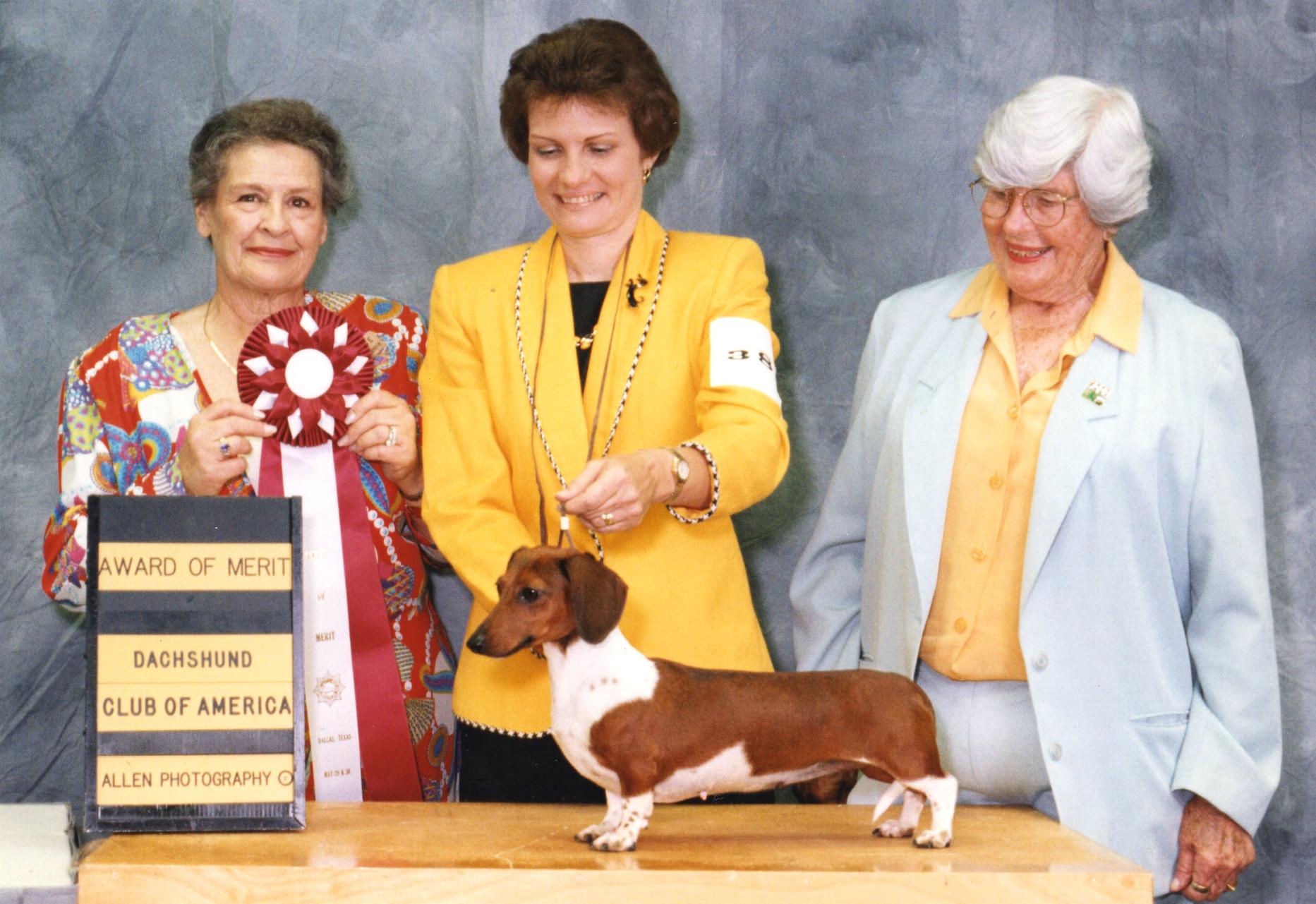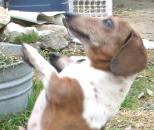 "Corrie" (4/22/94-4/6/10)
Ch. Duchwood's Cornerstone MS
(Duchwood's Dillon MS x Duchwood's Willow MS)
Our darling Corrie was euthanized 3 weeks shy of 16 years due to acute kidney failure. She had never had a sick day in her life prior to this. She was the world's first piebald champion and our very special little girl.
---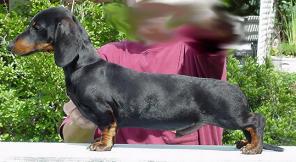 "Raven" (12/09/03-05/21/10)
CH. Duchwood's Rave Review MS
(Ch. Duchwood's Pierce Arrow MS x Duchwood's Riverdance MS)
---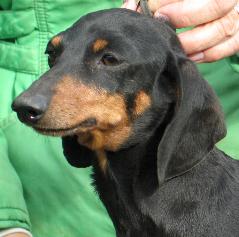 "Onyx"
(11/22/04-04/30/11)
Duchwood's On The Dark Side MS
(Ch. Duchwood's A First For Me MS x Duchwood's Magic Crystal MS)
Onyx had a minor bite wound which became infected with flesh-eating, antibiotic-resistant bacteria. She was in intensive care for 10 days and seemed to be improving, but her little body was overwhelmed and gave up. We were just devastated.
---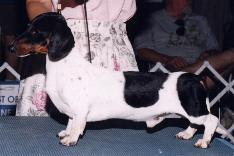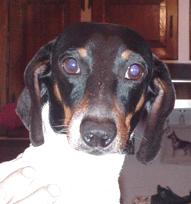 "Phoenix" (02/13/97 - 05/28/11)
Ch. Duchwood's Phoenix MS
(Nixon's Albomaculatus Nanus x Duchwood's Pebblestone MS)
We had to euthanize our beloved Phoenix due to melanoma mouth cancer. He adored his ball and even played fetch the day before he died. He was the 2nd male piebald breed champion in Dachshund history. He had field points but would go ratting instead just until the judge said "pick up your dogs", when he would suddenly jump onto the bunny trail and track the darn bunny very accurately. The judges would admire his work but it was too late to score him, so he never finished his field championship. He tried earthdog and but would always be 5 seconds short of either getting to the rats, or working the rats. He was just too darn smart and we will miss this gentle guy.

---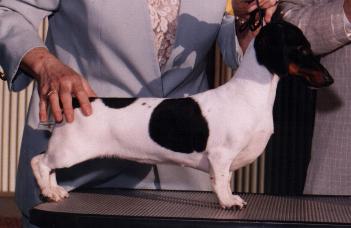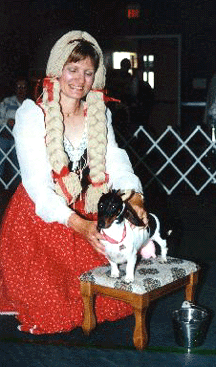 "Princess" (02/13/97 - 07/28/11)
Duchwood's Pixie Princess MS, JE (Ch. pts., field ch. pts.)
(Nixons Albomaculatus Nanus x Duchwood's Pebblestone MS, ROMX [field pts.])
Our sweet Princess finally lost the battle with Cushings disease. We had been treating her for almost 3 years, but the disease eventually caused much internal damage from which there was no recovery. Princess was a lively, silly girl who loved her ball like her brother, Phoenix. She was my little "Hostein milk cow" - horn, udder, cowbell, milking stool and pail and all (I was "Heidi, the Swiss milkmaid") - for the costume contest at the 2002 DCA national specialty, and we won! Princess was a wonderful mother who loved puppies and she gave us some beautiful ones. She was a maniac at earthdog, but would not come out of the tunnel when called and could not qualify for her senior earthdog title. She preferred rats to bunnies but did get some field trial points before we finally gave up - she would always stick her head into the nearest clump of grass looking for rats rather than run the bunny trail.

---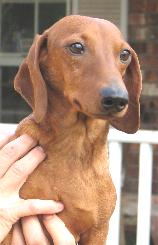 "Aidon" (07/18/00 - 10/18/11)
Field Ch. Duchwood's Celtic Courage MS (Ch. pts.)
(Ch. Ward's The Cowboy Way MS x Duchwood's Pixie Princess MS, JE)
We lost Princess' energetic son, Aidon, after a short bout with unrelenting pancreatitis which we believe was due to pancreatic cancer. It's hard to believe we lost both mom and son in the same year. Unlike his mother, Aidon loved hunting bunnies and finished his field championship fast with an Absolute win to his credit. We tried to show him in the field champion class, but he did not want to be caught and would hide in the thorniest woodpile so we couldn't find him or reach him, the little turkey! Aidon was a busy boy who often got into trouble with the other dogs because of his high energy, but he loved people and was very affectionate. We miss his presence, even though he refused to be a house dog.
---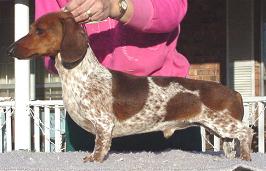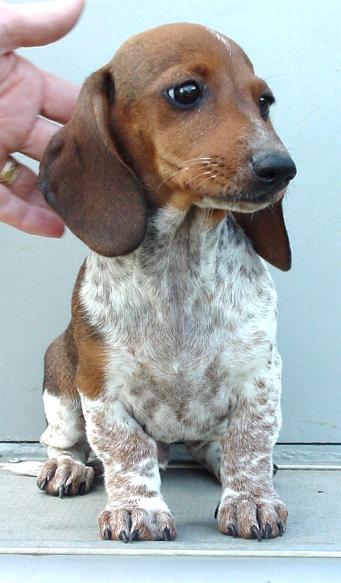 "Decker" (07/18/99 - 02/19/14)
Duchwood's All Decked Out MS OA, NAJ
(Duchwood's Saber Blade MS x Duchwood's Little Belle MS)
Decker was my first agility dog and the reason I love the sport. He loved it and would have gone far, but IVDD (unrelated to any agility event) rendered him paralyzed in the rear. Despite being operated on within 3 hours of going down, the LSU surgeons screwed up royally and would not give him any steroids after surgery. He was left a permanent cripple because of this but managed to get around on all fours until his death, although he could never run or jump again. He was a cheerful little guy, though, and lived a healthy, uneventful life until pneumonia triggered some sort of catastrophic heart failure and he had to be euthanized at age 14 1/2. He was only bred once and produced an outstanding son, Ch. Duchwood's Red Alert MS. He is greatly missed.
---
"Bryce"(08/03/00 - 08/18/12)
Ch. Duchwood's Red Alert MS
(Duchwood's All Decked Out MS, OA, NAJ x Dual Ch. Duchwood's All That Jazz MS)
We lost Bryce unexpectedly at age 12 from complications of glomerulonephritis (an old-dog kidney disease), a tumor on his pancreas, and a tumor in his spleen, all of which had been diagnosed only the week before we euthanized him. His only sympton prior to that was that he would occasionally skip a meal. Bryce was a proud boy who sired some gorgeous pups, and is sorely missed. He won an Award of Merit at the Dachshund Club of America National Specialty.

---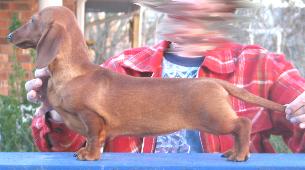 "Katherine" (08/07/06 - 03/01/13)
Ch. Duchwood's Katherine The Great MS
(Ch. Lisego Nosa Vitamin Yu x Duchwood's Magic Crystal MS)
Our sweet Katherine died in her sleep at a vet clinic due to complications from antibiotic resistant, aspiration pneumonia brought on by acquired megaesophagus possibly due to myasthenia gravis (unconfirmed). We fought hard for 2 weeks to save her but it was not to be. She produced a wonderful daughter, Ch. Duchwood's Little Miss Primadonna MS, who we will treasure in memory of our lovely, gentle Katherine.

---
"Wolfie" (06/22/96 - 11/24/12)
Dual Ch. Duchwood's Big Black Wolf MS
(Duchwood's Webster MS x Duchwood's Pebblestone MS)
Wolfie was a quiet, dignified gentleman who was euthanized at age 16 yrs., 5 months due to general old age body failure and a failing heart. He was a sweet, unassuming boy who always minded his manners and got along with everyone. He was RWD at DCA during his show career and sired some wonderful pups to carry on his legacy.
---

Duchwood's Garnet Glitter MS (liver cancer at age 11 - primary cancer was mammary gland cancer)

---
Duchwood's Pebblestone MS (in a pet home - bacterial cardiomyopathy at age 8 due to incompetent veterinary dental care)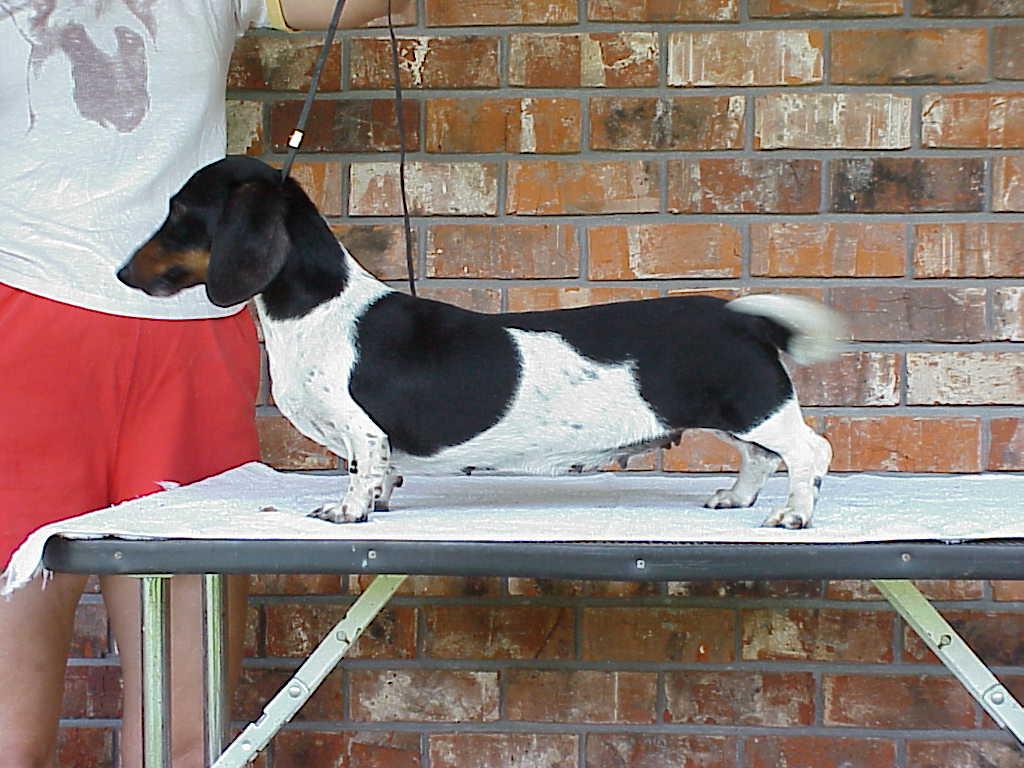 "Pebbles"

---
Duchwood's Tornado Patch MS (in a pet home - bacterial cardiomyopathy at age 8 - in pet home where they neglected his teeth).

"Tory"
Dachshunds are notorious for getting dirty teeth and gingivitis. The bacteria gets in their bloodstream and causes heart damage. Brush your dog's teeth several times a week and get a thorough dental cleaning done by your vet at least once a year after age 5. Feeding raw, not cooked, bones like beef rib and knuckle bones and raw chicken thighs at least once a week will help keep those big back molars clean and save on vet dental bills.

---
Duchwood's Dewdrop MS - 11/23/92 - 05/25/96 (botched C-section - idiot country vet twisted her intestines when she sewed her up)

---
Duchwood's Little Belle (autoimmune hemolytic anemia or something similar at age 10 following yearly vaccinations - was in a pet home)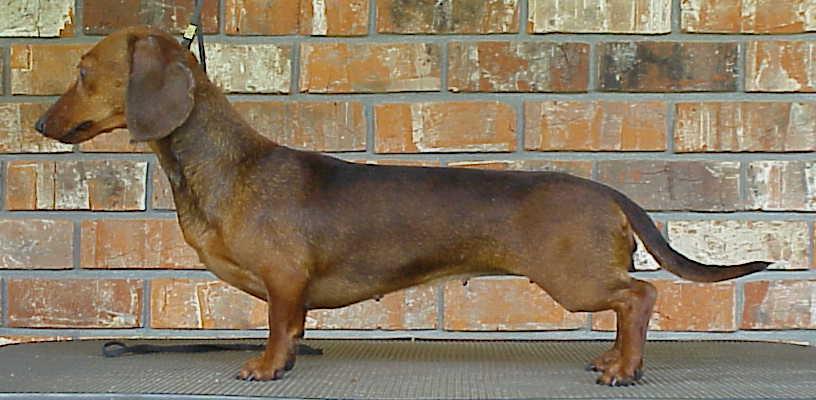 "Belle"
DO NOT vaccinate your dachshund with the DHL+P vaccine past the age of 2 and NEVER, EVER give this shot with a rabies shot on the same day - over-vaccination is leading to autoimmune disorders and death in dogs!
---
"One crowded hour of glorious life, is worth an age without a name". Alexander Pope
---
WHERE TO BURY A DOG
"If you bury him in this spot, he will
come to you when you call - come to you
over the grim, dim frontier of death,
and down the well-remembered path,
and to your side again.
"And though you call a dozen living
dogs to heel, they shall not growl at
him, nor resent his coming,
for he belongs there.
"People may scoff at you, who see
no lightest blade of grass bent by his
footfall, who hear no whimper, people
who may never really have had a dog.
Smile at them, for you shall know
something that is hidden from them,
and which is well worth the knowing.
"The one best place to bury a good
dog is in the heart of his master."
--- Ben Hur Lampman ---
from the Portland Oregonian Sept. 11, 1925
---
I AM YOUR DOG

I am your dog, and I have a little something I'd like to whisper in your ear.

I know that you humans lead busy lives. Some have to work, some have children to raise. It always seems like you are running here and there, often much too fast, often never noticing the truly grand things in life.

Look down at me now, while you sit there at your computer. See the way my dark brown eyes look at yours? They are slightly cloudy now. That comes with age. The gray hairs are beginning to ring my soft muzzle.

You smile at me; I see love in your eyes. What do you see in mine? Do you see a spirit? A soul inside, who loves you as no other could in the world? A spirit that would forgive all trespasses of prior wrong doing for just a simple moment of your time?

That is all I ask. To slow down, if even for a few minutes to be with me. So many times you have been saddened by the words you read on that screen, of others of my kind, passing. Sometimes we die young and oh so quickly, sometimes so suddenly it wrenches your heart out of your throat.

Sometimes, we age so slowly before your eyes that you may not even seem to know until the very end, when we look at you with grizzled muzzles and cataract clouded eyes. Still the love is always there, even when we must take that long sleep, to run free in a distant land.

I may not be here tomorrow; I may not be here next week. Someday you will shed the water from your eyes, that humans have when deep grief fills their souls, and you will be angry at yourself that you did not have just "One more day" with me. Because I love you so, your sorrow touches my spirit and grieves me.

We have NOW, together. So come, sit down here next to me on the floor, and look deep into my eyes. What do you see? If you look hard and deep enough we will talk, you and I, heart to heart. Come to me not as "alpha" or as "trainer" or even "Mom or Dad," come to me as a living soul and stroke my fur and let us look deep into one another's eyes, and talk.

I may tell you something about the fun of chasing a tennis ball, or I may tell you something profound about myself, or even about life in general. You decided to have me in your life because you wanted a soul to share such things with. Someone very different from you, and here I am.

I am a dog, but I am alive. I feel emotion, I feel physical senses, and I can revel in the differences of our spirits and souls. I do not think of you as a "Dog on two feet" -- I know what you are. You are human, in all your quirkiness, and I love you still.

Now, come sit with me, on the floor. Enter my world, and let time slow down if only for 15 minutes. Look deep into my eyes, and whisper to my ears. Speak with your heart, with your joy and I will know your true self.

We may not have tomorrow, and life is oh so very short.

Love, (on behalf of canines everywhere)
Author Unknown