POTENTIAL SHOW/PERFORMANCE PUPS/ADULTS FOR SALE
updated 01/21/17
SPECIAL NOTICE! - I am wanting to cut back on the number of dogs I am keeping because my husband and I want to travel. Right now, I have a whole bunch of young, gorgeous show prospects that I would like to place on co-ownership. However, I am looking for a special someone to carry on my breeding/showing program who shares my goals and ethics. You must have prior experience in showing and breeding dogs (I don't have the patience to start a novice out again), although not necessarily have experience in Dachshunds. You must have the financial background to support showing and breeding and the acreage to keep a number of dogs. I would also prefer someone who is interested in performance events like field trials and agility as well as conformation shows. No families with young children, please, as I realize the kids come first, and no college kids because you could not devote the proper time and attention to dog showing.
I will be very picky but I am willing to help someone who is truly sincere in wanting to stick with this breed as I have an established breeding program with proven success in all venues (conformation, obedience, agility, field trials, earthdog). You do not have to want to breed piebalds, as I will be keeping most of them myself anyway. Please contact Sandy at 225-938-0102 (central time 9 a.m. to 10 p.m.), or email me at mrussel1@ix.netcom.com.
---
"ZORRO"
<![if !vml]>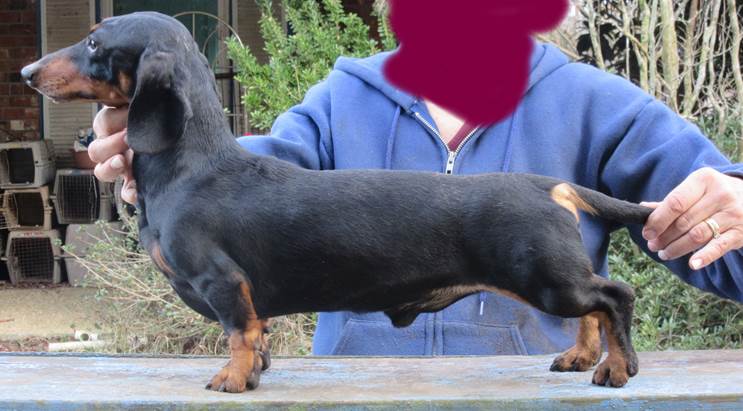 <![endif]> <![if !vml]>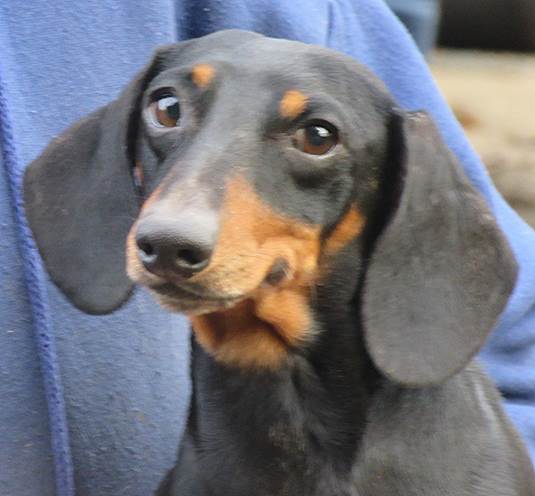 <![endif]>
Duchwood's El Zorro MS
(Dual Ch. Duchwood's Klark Kent MS x Duchwood's Fflur De Lis MS)
Date of Birth:  Sept. 16, 2013
Zorro is a small, sweet, 3 yr. old black/tan boy (excuse the photo – he was quite muddy when it was taken).  He is finishable in the show ring but does not show any interest in hunting bunnies to date, unlike his dual champion sister, Zara.  However, he desperately wants to please and is very affectionate and sweet.  He would make an outstanding agility or obedience dog.  I just don't have time for him, and since his sister has turned out to be a fabulous producer, I don't need him for stud services, either.  He's quite small but a bundle of energy.  This is a dog who needs a job.  He gets along great with all other dogs and is a great traveler.  He has a slight dip in his topline when he moves, but so do 95% of most show dachshunds, and it is not bad enough to keep him from finishing quickly in the breed ring, even with an amateur handler.  His front and rear are lovely, and his head is handsome.  I just never got around to showing him as I have way too many boys to show right now.  He's a dog someone can have fun with and I am going to be picky as to who gets him.
---
"YORICK"
<![if !vml]>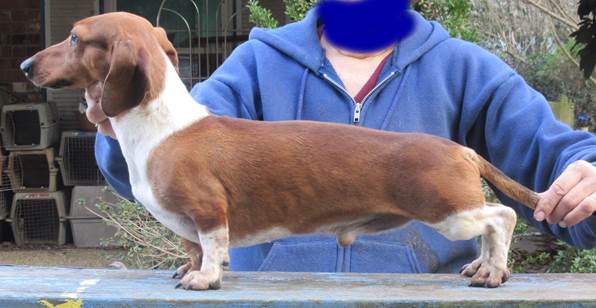 <![endif]> <![if !vml]>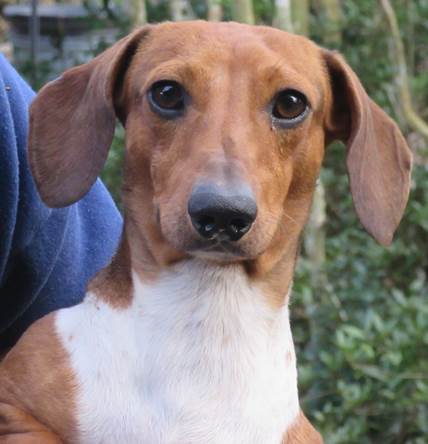 <![endif]>
Field Ch. Duchwood's Lord Yorick MS (ch. breed pts.)
(Duchwood's Tye Dyed Pye MS (ch. pts.) x Duchwood's Enchantress MS (ch. pts.))
Date of Birth:  May 6, 2013
Yorick is an adorable, small red piebald boy who is already a field champion and who has points towards his breed championship.  He is finishable in the show ring with a handler and can be shown out of the Open Mini class.  He needs a performance home who will do field trials and agility with him.  This dog can leap up into my arms in a single bound and is very active and athletic.  He gets along fine with all the other dogs and loves to travel.  He is available to a special home.
---
"NEVILLE OR NORDIN"
<![if !vml]>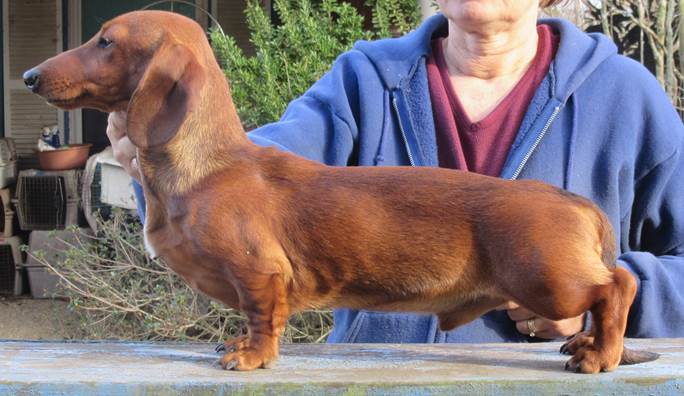 <![endif]> <![if !vml]>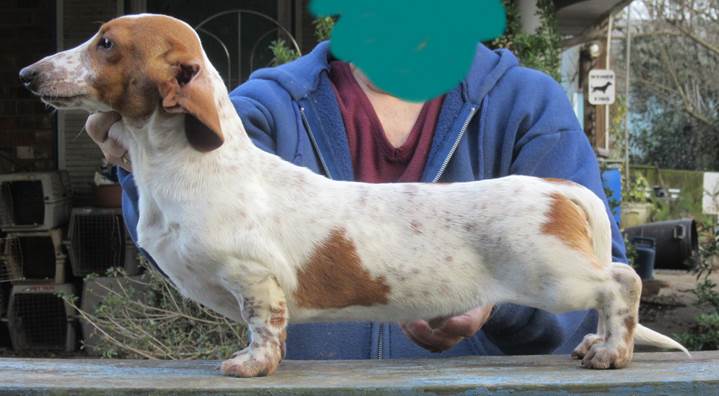 <![endif]>
Duchwood's Neville The Devil MS or Duchwood's Inordinate Surprise MS
(Dual Ch. Duchwood's Don't Give A'Dam MS x Dual Ch. Duchwood's Alizarine MS)
Date of Birth:  June 19, 2016
One of these boys is available to a guaranteed show/performance home as I don't need 2 brothers.  I don't care which one I keep as I love them both.  Neville, the red boy, is a clone of his dad, Adam, but is a little more timid than his very outgoing, red piebald brother, Nordin.  One of these boys needs to go to a home which does both conformation and field as I want dual championships on both these boys.  Both get along fine with other dogs and are great travelers.  They are now also ready for the show ring and will be exposed to bunnies this winter.
---
"AJAX"
<![if !vml]>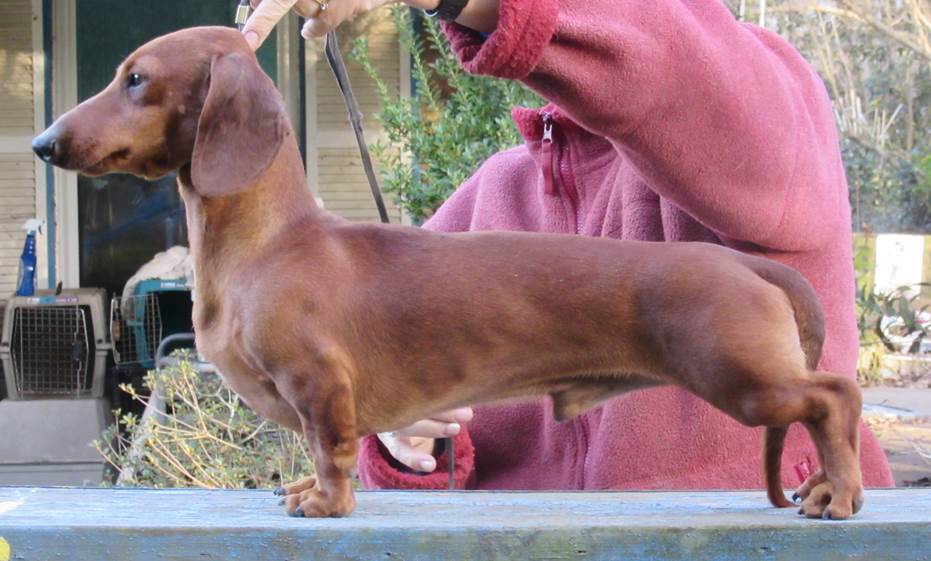 <![endif]> <![if !vml]>
<![endif]>
Field Ch. Duchwood's Ajax MS
(Ch. Duchwood's Movie Star MS x Ch. Duchwood's Parisol Painting MS)
Date of Birth:  March 18, 2013
Ajax is Adam's full brother, and since Adam is already a dual champion and has turned out to be a producer and my new agility dog, I don't have time for Ajax.  With more weight, Ajax could easily finish his breed championship and would make an awesome agility dog like his brother.  Ajax regularly vaults over 2-foot ex-pens and is extremely athletic.  He would also be a good obedience prospect as he loves to please.  He gets along fine with other dogs and loves to travel (just don't put him in an x-pen!).
---
Duchwood Kennels has been in existence for over 30 years breeding healthy, beautiful, AKC-registered, Miniature Smooth Dachshunds for working, performance, and show events. These hounds are bred and raised by an AKC field trial judge to have the best conformation and temperament to allow them to succeed in rabbit field trials, den trials, wounded deer tracking, and the hunting of rabbits, rats, squirrels, ground hogs, etc. Duchwood Dachshunds have excelled in all of the above field sports. All young dogs are evaluated for prey drive and temperament for the field sports and for their potential to produce the next generation of working hounds, as well as for the AKC recognized sports of tracking, agility, obedience, and conformation showing.
Copyright © 2001 to Sandra J. Russell. All rights reserved.
Unless otherwise allowed by law or stated elsewhere, NO part of the normally displayed text or graphics, including
keywords and HTML commands not normally displayed, on this site may be reproduced or transmitted in any form
or by any means, electronic or mechanical, including by photocopying, facsimile transmission, recording, rekeying,
scanning, or yet uninvented means, or by using any information storage and retrieval system, EXCEPT WITH THE
PRIOR WRITTEN PERMISSION OF THE AUTHOR AND APPROPRIATE REFERENCES TO THIS SITE AS
DEFINED BY THE AUTHOR. All text is intellectual property and is copyrighted. Each web page of portion thereof
contained in this site has a retail value of $6,000.00 US and is only available when ordered from the author.