Older Pups and Adults Available to Approved Pet/Performance Homes
Last Updated 01/21/2019
---
We occasionally have available for sale older individual dogs which do not fit into our breeding program or who are retired from show/performance events ring. Some dogs sold as pets are already spayed or neutered but those that are not MUST be spayed or neutered by their new owners before any AKC registration papers will be sent unless other arrangements have been made in advance. For serious inquiries, contact Sandy at (225) 938-0102, or MRUSSEL1@IX.NETCOM.COM
PLEASE CONSIDER US, TOO, WHEN LOOKING FOR A LOVING PET. WE MAY BE OLDER, BUT WE'RE MUCH EASIER TO HOUSE-BREAK THAN A TINY PUPPY since we have only lived outside on grass. WE TRAVEL WELL IN THE CAR, WALK ON LEAD, STAY QUIETLY IN OUR CRATES, AND HAVE HAD ALL OF OUR SHOTS.  Some of us are still young enough to embark on a second "career", such as field trials, obedience, earthdog, or agility.
---
"KINSEY"
<![if !vml]>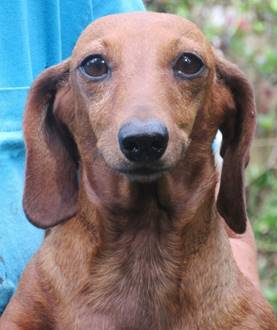 <![endif]> <![if !vml]>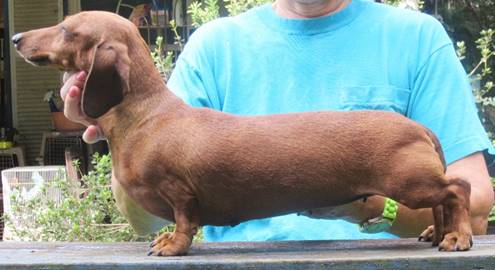 <![endif]>
Duchwood's K Is For Kinsey MS
Date of Birth: 4/18/10
Kinsey is a tiny, red girl born 4/18/10.  She's quite lively and adorable; already spayed; $250 to a loving retirement home with no small children.
---
"KLARK"
<![if !vml]>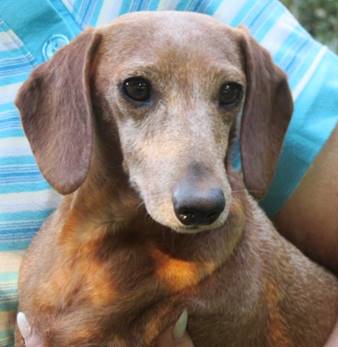 <![endif]> <![if !vml]>
<![endif]>
Dual Ch. Duchwood's Klark Kent MS
Date of Birth:  4/18/10
Klark is a littermate to Kinsey above.  He is a very small boy; already neutered; very lively and affectionate; loves belly rubs; does not like smokers; house-trained; $250 to a loving retirement home with no small children.
---
"POLO"
<![if !vml]>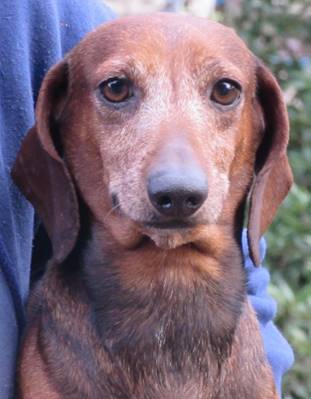 <![endif]>   <![if !vml]>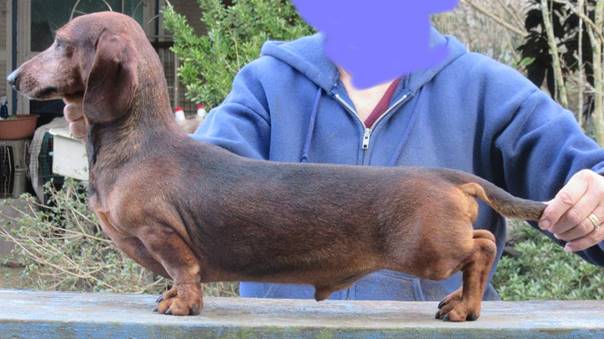 <![endif]>
Ch. Duchwood's Polo Pony MS
(Ch. Duchwood's Red Alert MS x Lisego Nosa Byaki-Buki)
Date of Birth:  January 15, 2010
Polo just turned 9 yrs. old this month but is graying early in his face.  He is a gorgeous dark, mahogany red and has produced reds, dark chocolates, black/tans, and piebalds.  He was only bred once and I have lovely sons out of him, so Polo can now go to a loving pet home where he will get individual attention.  He is a big, solid boy, probably weighing around 14 lbs.  He gets along fine with other dogs but may be timid around people he doesn't know.  He is crate-trained and leash-trained and travels just fine.  Polo is not yet neutered, and is available to the right home for $250. Transport or shipping can be arranged.
<![if !supportLists]>
<![endif]>
"NEVILLE"
<![if !vml]>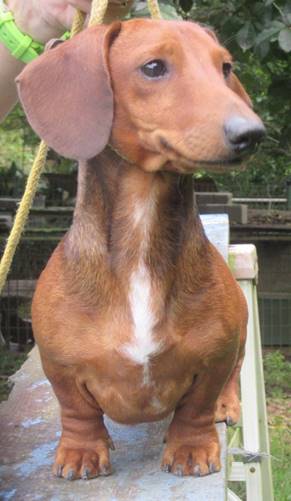 <![endif]> <![if !vml]>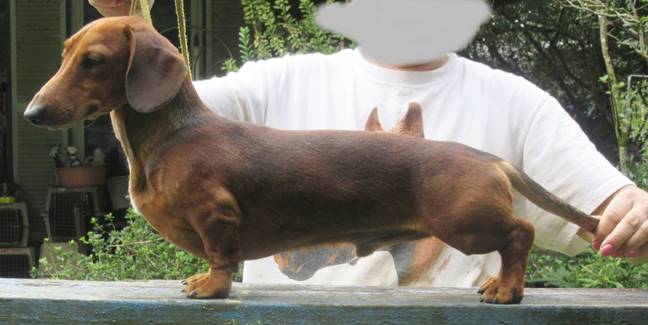 <![endif]>
Duchwood's Neville The Devil MS
Date of birth:  6/19/16
Neville is only 2 ½ years old.  The breed judges just didn't seem to like him, although he has a point or two, and he hates his brother Nordin, so Neville needs to find an active pet home.  He is neutered and had a recent dental.  He is up-to-date on all his shots; crate-trained; leash-trained; and travels well.  He hasn't been around children much so he needs to go to a home with either no kids or kids over the age of 12.  He's a sweet, affectionate boy; $300 to an approved pet home.
<![if !supportLists]>
<![endif]>
"ERICA"
<![if !vml]>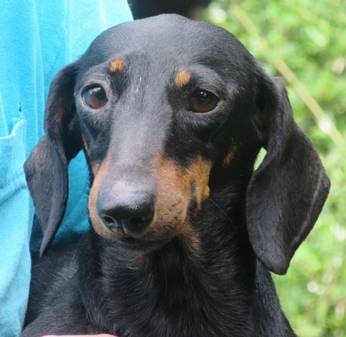 <![endif]> <![if !vml]>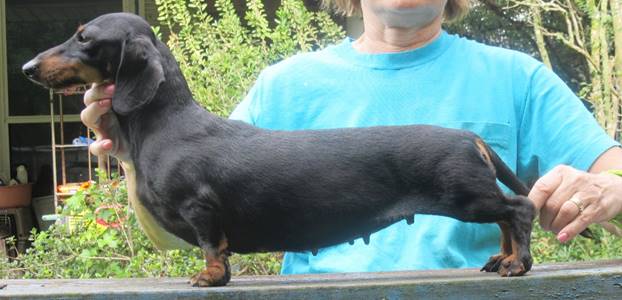 <![endif]>
Duchwood's Lady Erica MS
Date of Birth:  1/16/11
Erica just turned 8.  She's a sweetheart and already spayed.  She is leash-trained, crate-trained, and travels well.  She has not been exposed to small children so a home without small kids is a must.  She does a silly dance at feeding time and has to be kept on a strict diet as she LOVES food!  Available to a loving home for $250.
---

    Our Boys

    Our Girls

    Puppies

     Show/Breeding/Performance/Working Prospects For Sale

  Photos of our dogs in their New Homes

    Crate Training Tips for Your New Puppy

Back to the Home Page
Duchwood Kennels has been in existence for over 35 years breeding healthy, beautiful, AKC-registered,  Miniature Smooth Dachshunds for working, performance, and show events.  These hounds are bred and raised by an AKC field trial judge to have the best conformation and temperament to allow them to succeed in rabbit field trials, den trials, wounded deer tracking, and the hunting of rabbits, rats, squirrels, ground hogs, etc.  Duchwood Dachshunds have excelled in all of the above field sports.  All young dogs are evaluated for prey drive and temperament for the field sports and for their potential to produce the next generation of working hounds, as well as for the AKC recognized sports of tracking, agility, obedience, and conformation showing.
Keywords: miniature dachshunds, miniature smooth dachshunds, miniature dachshund breeder, miniature dachshunds for sale
Copyright © 2001 Sandra J. Russell.  All rights reserved.
Unless otherwise allowed by law or stated elsewhere, NO part of the normally displayed text or graphics, including keywords and HTML commands not normally displayed, on this site may be reproduced or transmitted in any form or by any means, electronic or mechanical, including by photocopying, facsimile transmission, recording, rekeying, scanning, or yet uninvented means, or by using any information storage and retrieval system, EXCEPT WITH THE PRIOR WRITTEN PERMISSION OF THE AUTHOR AND APPROPRIATE REFERENCES TO THIS SITE AS DEFINED BY THE AUTHOR. All text is intellectual property and is copyrighted. Each web page of portion thereof contained in this site has a retail value of $6,000.00 US and is only available when ordered from the author.
---